OCTOBER 11, 2000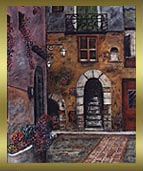 "Casa Sevilla"
2000
News update.... My 1999 masterpiece and personal favorite "Casa Sevilla" was sold for $20,000 to an anonymous buyer from the bay area in one of my Open Studio weekends in late August. This classic painting has caught everyone's hearts (including mine) and its giclee on canvas has topped my giclee bestseller list since it came out. The same buyer also bought my latest original painting entitled "Villa in Procida" for $10,000. It was the biggest deal I have ever closed to a single client. I am still recovering from this shock although the feeling was ecstatic!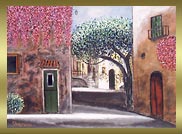 "Villa in Procida"
1999
I want to invite everyone to the 2000 San Francisco International Art Expo on November 2-5 at the San Francisco Concourse Exhibition Center. This is the first time this event is going to be held in the Bay Area. (The New York Art Expo has been going on for several years). Free tickets to the show are available thru me by e-mail or by phone.Artists from around the world are flying for the SF Int'l Art Expo as well as prestigious local and international gallery owners and curators. Celebrity appearances are expected as well. I am real excited about this event!
As part of the publicity for the SF Int'l Art Expo, I was asked to teach a total of 30 fifth graders from West Portal School in San Francisco on how to paint. It was a unique and pleasant experience for me to show these children how to create Monet's Water Lilies and some of them, actually, did a fabulous job!
The year 2000 has been phenomenal with sales and the value on my original paintings has definitely appreciated. Thanks always for all your support and belief in my art!