APRIL 2000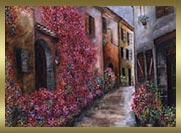 "Villa in Allassio"
1999
Some great news... my second annual OPEN STUDIO was a record breaker! Sales on the original paintings on Saturday, March 11 grossed the highest of my entire career. "Villa in Alassio" a 1999 original acrylic painting was sold for $10,000 to an anonymous buyer from the bay area. It was one of the most beautiful paintings I have ever created. I can't believe it sold within a blink of an eye. It was painted in less than six months.
By noon on that same day, three other original paintings were sold including one entitled "Still Life with Squash". It was painted a week before the show. Others sold included a classic portrait I painted in 1993 which is entitled "Spanish Eyes". Several limited editions giclee on canvas were also sold throughout that weekend.
I am very grateful to those who attended the event. Prior to that, I was not sure how I would do that weekend because I never had a showing that early part of the year. I had no idea on what was going to happen. However, it turned out into a beautiful sunny weekend and into a life-changing event. Only in my dreams where I would think that something like this is possible. Although I was in shock for several days, the feeling was wonderful!
Due to the continuing successes of my OPEN STUDIO weekends, I am holding more of them this year. The next one is on April 15 & 16. Please check the attach listing for my schedule. I hope to see you all in all these events! Thanks a million!