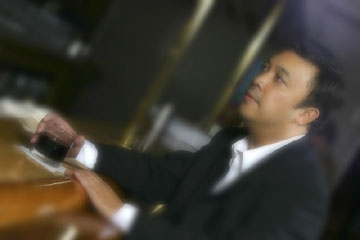 Come Listen to Frederico's Singing at Papillon in Fremont!
Frederico Domondon sings and plays the piano in Papillon restaurant weekly every Wednesday, Friday and Saturday nights from 8:00pm to 10:00pm. His paintings are on continous exhibition in the restaurant.


Papillon, a renowned French restaurant in Fremont is on the top 100 list of the best restaurants in the country and was voted "most romantic". The address is 37296 Mission Blvd. in Fremont. For reservations, please call 510-793-6331. Papillon specializes in authentic French cuisines and is known for its European ambiance. So please visit Papillon not only to see Frederico's beautiful paintings but also to hear him play romantic songs on the piano.
For Papillon's complete menu, please log on to www.papillonrestaurant.com
Frederico Domondon
Union City, CA 94538
(415) 640-1657

E-Mail: frederico.domondon@gmail.com