Frederico de Leon Domondon was born July 25, 1964 in Manila, Philippines. At the age of seven, he started sketching portraits. Throughout grade school and high school, Frederico was popular among his schoolmates for his charcoal portraits of celebrities such as Farrah Fawcett, his favorite actress. He immigrated to the United States in 1980 with his brother and sister when his mother remarried an American lawyer. Following his mother's advice, Frederico pursued a degree in business with a major in accounting from San Francisco State University. He graduated in 1989 and started working as an accountant for a San Francisco firm. After a few years of working as an accountant, his passion of expressing himself on canvas began to haunt him.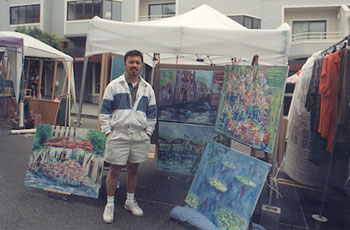 Inspired by Monet, Matisse and other impressionists for their use of colors and their unique styles, Frederico began painting in acrylics on canvas in 1992. In May of 1993, Frederico sold his very first painting entitled, "Water Lilies" for $250 while exhibiting at a local café. His friends who often visited his San Francisco apartment started buying his work. In 1994, his first break came when an affluent couple from Atherton, California sponsored a private showing for him at their home, where he sold several original paintings. This exhibit launched his artistic career and his talent started to gain recognition. As a result, he gained confidence in the quality and marketability of his work.

His next endeavor was to participate in "Jazz and All That Art on Fillmore", a renowned San Francisco art show. In spite of horrible weather of gusty wind and endless fog, a dozen of his originals were sold. This was the beginning of his phenomenal success at street fairs. In the last seven years, over 300 originals plus hundreds of prints and giclees on canvas were sold at these very lucrative street fairs. Frederico painted after office hours during the week and then would display and sell his paintings on the weekends. (These street fairs were not just a lot of fun, but they were also very successful for him.) In May of 1999, Frederico purchased a Mediterranean style home in Vallejo where he began to hold regular Open Studios. His home has now become not only a great venue to showcase his work, but it also has helped increase his sales.

The year 2000 marked a breakthrough in his career and his life started to change sooner than he anticipated. In February, Frederico quit his day job and fulfilled his dream of becoming a full-time artist. Only one month after he left his accounting job, Frederico held his first Open Studio and on Saturday night March 11 he sold his masterpiece,"Villa in Alassio" for $10,000 to a pharmacist. In July, he held his first one-man show at Halogens Gallery in Millbrae which resulted in an appearance on cable TV. In August, his classic painting "Casa Sevilla" sold for $20,000 to a realtor. All the years of hard work and commitment to his art was finally paying off.
His original works are now highly valued and his style has become very distinctive and recognizable. Frederico now has a large established following of supporters in the Bay Area. He has also marketed himself successfully on the Internet, resulting in art connoisseurs flying to his studio from New York, Seattle, and Scottsdale to purchase his work. (Frederico's work is available for viewing on the Internet at www.domondon.com).

Frederico's dream for the future is to own his own art gallery in the Bay Area. Surely, with all the worldwide exposure and support from his many patrons, this dream will not be difficult to achieve.